Machining & Plasma Cutting
We stive to meet your fabrication needs - using either reconditioned equipment or creating new.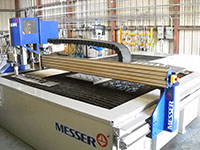 In order to better serve our customers, CF&S has added two CNC Mills and a CNC High Definition Plasma Arc Cutting Table. We are capable of designing and programming to meet customer requirements to the closest tolerances. Our machine shop personnel are trained and experienced for the highest quality service for you.
Custom Fabrication
We can meet your fabrication needs in any area, including:
New & Reconditioned Sources
Custom Design and Manufacturing of Skids
Custom Design and Manufacturing of Piping
Custom Manufacturing
Sand Blasting & Painting
Painting & Blasting
We offer custom sandblasting and painting that is second to none, let our professional team give your equipment the look they deserve.